These days, crucial business decisions have to be made in a split second. However, the quality of these decisions hinges quite often on timely, insightful information and relevant business reporting.
How effective is your business reporting solution in providing you with the information you need at the time you need it?
Chances are, like 75% of small and medium businesses, your company is using spreadsheets. True, spreadsheets are the most common go-to solutions for on-the-fly forecasting, but they may not be your best option for presenting information that require consolidation and in-depth analysis and involve a lot of number crunching, especially with critical data at stake.
Furthermore, spreadsheet-based reports are rarely produced in a timely manner. In today?s fast evolving business environment where flexibility, mobility, and timeliness are the order of the day, this simply won't do.
Let's take a look at the particular areas where spreadsheets fall short when it comes to providing dynamic and sound financial reports:
Collaboration
With rapidly changing market conditions, organisations have to conduct budgeting, forecasting, and planning more often. Hectic schedules and geographical distances aren't a hindrance though, because technologies like the Internet, advanced telecommunications and mobile devices can put instantaneous collaboration at everyone?s fingertips.
But collaborative activities in a dynamic setting can only succeed if all participating individuals are given secure, real time and simultaneous access to the same relevant information. This way, every change made is automatically consolidated and projected unto the bigger picture for everyone to digest.
Alas, spreadsheets aren't built for this.
Cost Efficiency
Whether we're in a recession or not, cost efficiency has to be taken into consideration. Are spreadsheets really the cost-effective solution?
Think ?time is money?. With the length of time needed to prepare data, establish controls, consolidate reports and distribute copies, you'll realise how expensive spreadsheets actually are.
The ability to innovate in a changing economic environment and limited resources – a valuable derivative of agile practices – can give your company a very significant advantage. But dedicating so much time on spreadsheet management can strip your organisation of room for innovation.
Quality of Reports
Business empires rise and fall on the power of relevant information. At the end of the day, top management should assess their sources of key performance reports, planning tools and budgeting applications using these parameters:
Does your financial reporting system give you the right information right when you need it?
Do the reports allow you to look beyond the numbers to spot trends or forecast changes in the market?
Do they furnish enough significant data for you to make informed decisions in good time?
Spreadsheets weren't designed to analyse data on the enterprise level. As a result, spreadsheet reports often take far too long to prepare and more importantly, may lack the dimension and depth that are crucial in decision making.
Data Reliability
We're all familiar with the risks associated with spreadsheets. This error-prone UDA can provide inaccurate information simply because of a broken link, an incomplete range, a deleted number, or an incorrect formula. In an active business scenario where data manipulation has to be done under constant time pressure, the risk probabilities escalate.
As they always say, ?If anything can go wrong, it will?. With spreadsheets, a lot of things could go wrong. Is this the kind of tool you?d like to work with when making fast, crucial decisions? If you're still using spreadsheets, then you?d best forget about dynamic reports and rolling forecasts.
Inability to adapt to personnel turnover
A key challenge in maintaining the spreadsheet system is picking up where another left off. A user would find it difficult to debug, revise, or analyse a spreadsheet system he developed himself and the process becomes doubly complicated if or when another person takes over.
Starting from scratch is painfully counterproductive, so that a newcomer has to spend hours figuring out the original entries in the spreadsheet and the reports it yields.
While no one is indispensable in any organisation, it's pretty much accurate to say that if a spreadsheet ?developer? leaves, it could momentarily halt the production of key finance reports. In a fast changing business landscape, such failure to monitor performance at critical times could sound the death knell for your company.
More Spreadsheet Blogs
?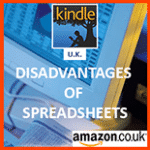 amazon.co.uk
?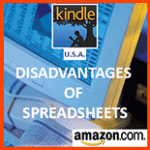 amazon.com
Contact Us
(+353)(0)1-443-3807 – IRL
(+44)(0)20-7193-9751 – UK