End User Computing (EUC) or end User Developed Application (UDA) systems like spreadsheets used to be ideal ad-hoc solutions for data processing and financial reporting. But those days are long gone.
Today, due to regulations like the:
Sarbanes-Oxley (SOX) Act,
Dodd-Frank Act,
IFRS (International Financial Reporting Standards),
E.U. Data Protection Directive,
Basel II,
NAIC Model Audit Rules,
FAS 157,
yes, there?s more ? and counting
a company can be bogged down when it tries to comply with such regulations while maintaining spreadsheet-reliant financial and information systems.
In an age where regulatory compliance have become part of the norm, companies need to enforce more stringent control measures like version control, access control, testing, reconciliation, and many others, in order to pass audits and to ensure that their spreadsheets are giving them only accurate and reliable information.
Now, the problem is, these control measures aren't exactly tailor-made for a spreadsheet environment. While yes, it is possible to set up a spreadsheet and EUC control environment that utilises best practices, this is a potentially expensive, laborious, and time-consuming exercise, and even then, the system will still not be as foolproof or efficient as the regulations call for.
Testing and reconciliation alone can cost a significant amount of time and money to be effective:
It requires multiple testers who need to test spreadsheets down to the cell level.
Testers will have to deal with terribly disorganized and complicated spreadsheet systems that typically involve single cells being fed information by other cells in other sheets, which in turn may be found in other workbooks, or in another folder.
Each month, an organisation may have new spreadsheets with new links, new macros, new formulas, new locations, and hence new objects to test.
Spreadsheets rarely come with any kind of supporting documentation and version control, further hampering the verification process.
Because Windows won't allow you to open two Excel files with the same name simultaneously and because a succession of monthly-revised spreadsheets separated by mere folders but still bearing the same name is common in spreadsheet systems, it would be difficult to compare one spreadsheet with any of its older versions.
But testing and reconciliation are just two of the many activities that make regulatory compliance terribly tedious for a spreadsheet-reliant organisation. Therefore, the sheer intricacy of spreadsheet systems make examining and maintaining them next to impossible.
On the other hand, you can't afford not to take these regulations seriously. Non-compliance with regulatory mandates can have dire consequences, not the least of which is the loss of investor confidence. And when investors start to doubt the management's capability, customers will start to walk away too. Now that is a loss your competitors will only be too happy to gain.
Learn more about our server application solutions and discover a better way to comply with regulations.
More Spreadsheet Blogs
?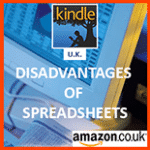 amazon.co.uk
?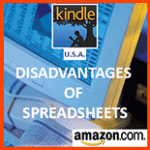 amazon.com
Contact Us
(+353)(0)1-443-3807 – IRL
(+44)(0)20-7193-9751 – UK