The ?Peter Principle? concerning why managers fail derives from a broader theory that anything that works under progressively more demanding circumstances will eventually reach its breaking point and fail. The Spanish philosopher Jos? Ortega y Gasset, who was decidedly anti-establishment added, "All public employees should be demoted to their immediately lower level, as they have been promoted until turning incompetent".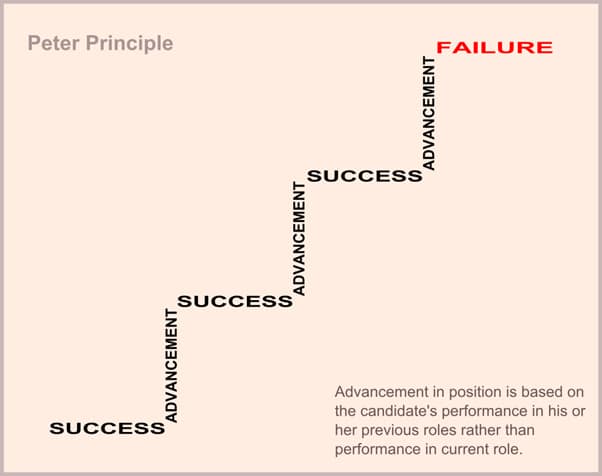 The Peter Principle is an observation, not a panacea for avoiding it. In his book The Peter Principle Laurence J. Peter observes, "In a hierarchy every employee tends to rise to his level of incompetence … in time every post tends to be occupied by an employee who is incompetent to carry out its duties … Work is accomplished by those employees who have not yet reached their level of incompetence."
Let's find out what the drivers are behind a phenomenon that may be costing the economy grievously, what the warning signs are and how to try to avoid getting into the mess in the first place.
Drivers Supporting the Peter Principle
As early as 2009 Eva Rykrsmith made a valuable contribution in her blog 10 Reasons for Executive Failure when she observed that ?derailed executives? often find themselves facing similar problems following promotion to the next level:
The Two Precursors
They fail to establish effective relationships with their new peer group. This could be because the new member, the existing group, or both, are unable to adapt to the new arrangement.
They fail to build, and lead their own team. This could again be because they or their subordinates are unable to adapt to the new situation. There may be people in the team who thought the promotion was theirs.
The Two Outcomes
They are unable to adapt to the transition. They find themselves isolated from support groups that would otherwise have sustained them in their new role. Stress may cause errors of judgement and ineffective collaboration.
They fail to meet business objectives,?but blame their mediocre performance on critical touch points in the organization. They are unable to face reality. Either they resign, or they face constructive dismissal.
The Warning Signs of Failure
Eva Rykrsmith suggests a number of indicators that an individual is not coping with their demanding new role. Early signs may include:
Lagging energy and enthusiasm as if something deflated their ego
No clear vision to give to subordinates, a hands-off management style
Poor decision-making due to isolation from their teams? ideas and knowledge
A state akin to depression and acceptance of own mediocre performance
How to Avoid a ?Peter? in Your Organization
Use succession planning to identify and nurture people to fill key leadership roles in the future. Allocate them challenging projects, put them in think tanks with senior employees, find mentors for them, and provide management training early on. When their own manager is away, appoint them in an acting role. Ask for feedback from all concerned. If this is not positive, perhaps you are looking at an exceptional specialist, and not a manager, after all.
Consider the future, and not the past when interviewing for a senior management position. Ask about their vision for their part of the organization. How would they go about achieving it? What would the roles be of their subordinates in this? Ask yourself one very simple question; do they look like an executive, or are you thinking of rewarding loyalty.
How to Avoid Becoming a ?Peter??Perhaps you are considering an offer of promotion, or applying for an executive job. Becoming a ?Peter? at a senior level is an uncomfortable experience. It has cost the careers of many senior executives dearly. We all have our level of competence where we enjoy performing well. It would be pity to let blind ambition rob us of this, without asking thoughtful questions first. Executives fail when they over-reach themselves, it is not a matter of bad luck.
Contact Us
(+353)(0)1-443-3807 – IRL
(+44)(0)20-7193-9751 – UK