Spreadsheets are flexible, inexpensive and easy to use. They are especially handy when it comes to beating report submission deadlines or making impromptu data computations. That's why office workers, managers and even executives have made spreadsheets their go-to solution for such undertakings and more.
Spreadsheets have become so ubiquitous, that they've found their way into a wide range of applications including complex modelling, accounting reconciliations, market data analysis, work flow tracking and monitoring, analytical review and financial reporting.
Unfortunately, organisations heavy reliance on spreadsheets have made these User Developed Applications (UDA) into high-risk office tools. Simple spreadsheet errors like leaving out a negative sign or a cut-and-paste mistake have already caused million-dollar discrepancies. Also, when a fraudulent employee enters into the picture, the risks become unimaginable.
Think TransAlta?s spreadsheet cut-and-paste glitch (the company later called this a ?simple clerical error?) which caused the energy firm a whopping $24 million loss or Fidelity?s overstatement of its earnings owing to the omission of the minus sign on the spreadsheet of a $1.3 billion net capital loss.
In both cases and in many other similar spreadsheet fiasco, the errors played a major role in the organisation's decision-making, leading to disastrous results including, but not limited to financial loss, shattered investor confidence and public embarrassment.
If these are scenarios your organisation can ill afford, then it's time to ask yourself: Do the disadvantages of spreadsheets far outweigh their benefits to merit a call for total liberation from them?
More Spreadsheet Blogs
?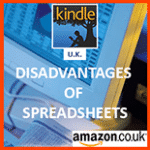 amazon.co.uk
?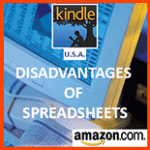 amazon.com
Contact Us
(+353)(0)1-443-3807 – IRL
(+44)(0)20-7193-9751 – UK