Solvency II is now fast approaching and while it may provide added protection to policy holders, its impact on the insurance industry is not all a bed of roses. Expect insurance companies to restructure, increase manpower, and raise spending on actuarial operations and risk management initiatives. Those that cannot, will have to go. But what have spreadsheets got to do with all these?
Well, spreadsheets aren't really the main casts in this blockbuster of a regulatory exercise but they certainly have a significant supporting role to play. Pillar I of Solvency II, which calls for improved supervision on internal control, risk management, and corporate governance, and Pillar II, which tackles supervisory reporting and public disclosure of financial and other relevant information, both affect systems that have high-reliance on spreadsheets.
A little background about spreadsheets might help.
Who needs an IT solution when you can have spreadsheets?
Everyone in any organisation just love spreadsheets; from the office clerk to the CEO. Because they're so easy to use (not to mention they're a staple in office computers), people employ them for processing numbers and as an all-around tool for planning, forecasting, reporting, complex modelling, market data analysis, and so on. They make such tasks faster and easier. Really?
You probably haven't heard of spreadsheet hell
Unfortunately, spreadsheets do have certain shortcomings. Due to their inherent structure and lack of controls, it is so easy to commit simple errors like an accidental copy paste, an omission of a negative sign, an incorrect data input, or an unintentional deletion. Such shortcomings may seem harmless until your shareholders discover a multi-million discrepancy in your financial report.
And because spreadsheet errors can go undetected for a long time, they are constant targets of fraudsters. In other words, spreadsheets are high risk applications.
Solvency II Impact on Spreadsheet-based Financial and IT Systems
Regulations like Solvency II, are aimed at reducing risks to manageable levels. Basically, Solvency II is a risk-based system wherein a company?s capital requirements will depend on its measured riskiness. If companies want to avoid facing onerous capital requirements, they have to comply.
The three pillars of Solvency II have to be in place. Now, since spreadsheets (also known as User Developed Applications or UDAs) are high-risk applications with weak control features and prone to produce inaccurate reports, companies will have a lot of work to do to establish Pillars II and III.
There are at least 8 articles that impact spreadsheets in the directive. Article 82, for example, which requires firms to ensure a high level of data quality and accuracy, strikes at the very core of spreadsheets? weakness.
A whitepaper by Raymond Panko entitled ?Spreadsheets and Sarbanes-Oxley: Regulations, Risks, and Control Frameworks? mentioned that 94% of audited real world operational spreadsheets that were included in his study were found to have errors and that an average of 5.2% of all cells in the audited spreadsheets had errors.
Furthermore, many articles in the directive call for the enforcement of better documentation. This is one thing that's very tedious and almost unrealistic to do with spreadsheets because just about anyone uses them. Besides, with different 'versions? of the same data existing in different workstations throughout the organisation, it would be extremely difficult to keep track of them all.
Because of spreadsheets you now need an IT solution
It is clear that, with the growing number of regulations and the mounting complexity of tasks needed for compliance, spreadsheets no longer belong in this era. What you need is a server-based solution that allows for seamless collaboration, data reliability, data consistency, increased security, automatic consolidation, and all the other features that make regulation compliance more doable.
One important ingredient for achieving Solvency II compliance is sound data risk management. Sad to say, the ubiquitous spreadsheet will only expose your data to more risks.
More Spreadsheet Blogs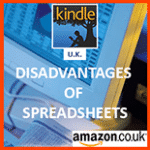 amazon.co.uk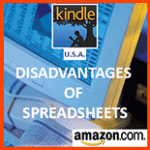 amazon.com
Contact Us
(+353)(0)1-443-3807 – IRL
(+44)(0)20-7193-9751 – UK