Like it or not, regulations are here to stay and for a company to comply with them, its IT and financial systems will have to be equipped with a suitable control framework. One common stumbling block to such an implementation is a company?s over-reliance on spreadsheets.
Why is it so difficult to adopt controls for a system that's reliant on spreadsheets? To understand this, let's pinpoint some of the strongest, most powerful attributes of these User Developed Applications (UDA).
By nature, spreadsheets are the epitome of simplicity: easy to develop, easily accessible and easily altered. All computers in your workplace will most likely have them and everyone in your organization may be sharing them, making their own versions, and storing them in personal folders.
Sad to say though, these strengths are also control weaknesses and constitute the very reasons why spreadsheets require effective risk management.
Easy to develop. Being easy to develop, most spreadsheet systems are created by non-IT users who have limited knowledge on best control practices. Being constantly under time pressure, these ?developers? may also relegate documentation, security, and data verification to the back burner in favour of coming up with a timely report.
Easy to access. Information in a spreadsheet can be opened by practically anyone within the organization?s network. Who accessed what? And when? If anything goes wrong, it would be difficult to identify the culprit, and the failure to pinpoint responsibility for erroneous data could lead to bigger, more costly mistakes.
Easy to alter. Lastly, if the information is easy to access, then it can also be easily altered, consequently making reports more prone to both accidental errors and fraudulent modifications.
The rise of multimillion dollar scandals due to accidental and intentional spreadsheet errors have prompted regulatory bodies to publish guidelines for mitigating spreadsheet-associated risks. These controls include:
Change control
Version control
Access control
Input
Security and data integrity
Documentation
Development life cycle
Backup and archiving
Logic inspection/Testing
Segregation of duties/roles, and procedures
Analytics
In theory, these controls should be able to bring down risks considerably. However, because of the inherent nature of spreadsheets, such controls are rarely implemented effectively in the real world.
Take for example Security and Data Integrity. One of the most common causes of spreadsheet error is due to ?hardwiring?. This happens when values are inadvertently entered into a formula cell, naturally changing the logic of the spreadsheet.
As a way of control, cell locking can be applied on the formula cells to prevent users without the proper authority from making any changes. However, when reporting deadlines approach drawing spreadsheets to the forefront of data processing, more people are given access rights to the locked cells. Ironically, it is during these crunch times, when errors are most likely to happen.
Because the built-in features of a spreadsheet support none of the controls mentioned above, some companies are tempted to purchase control-enabling programs for spreadsheets just to continue using them for financial reporting. But although these programs can integrate the required controls, you?d still be interacting with the same complex and outdated interface: the spreadsheets.
Thus, these band-aid solutions may not suffice because the root cause of these problems are the spreadsheets themselves.
Learn more about our server application solutions and discover a better way to implement controls.
More Spreadsheet Blogs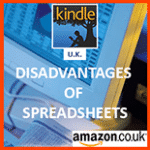 amazon.co.uk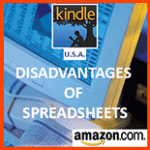 amazon.com