The problems and limitations of spreadsheet-based systems are well documented. That's why we at Denizon have come up with ways to give you freedom from these UDAs (User Developed Applications). With the server application solutions we offer, your IT and financial system can be:
Totally devoid of spreadsheet risks
By getting rid of spreadsheets, you also get rid of broken links, incomplete range selections, accidental deletion of cells, incorrect copy-pasting and other spreadsheet-related slip-ups.
In their place, we offer a faster but more robust and reliable centralised system. Errors are substantially minimised by built-in controls, while inconsistencies are avoided because changes made by one user are automatically reflected on the data delivered to others.
Built-in business-critical controls
Some solutions are designed to add control features on spreadsheets. We believe that such features can only be truly effective in today?s fast-paced and dynamic business environment if they are already inherent in the design of the IT solution; not something that's merely added as an afterthought.
For one, while these band-aid solutions may succeed in adding controls, they don't get rid of the slow, tedious, and time-consuming processes that accompany spreadsheet systems.
Less prone to fraud
Weak controls and the absence of reliable audit trails are two factors that encourage fraudsters to prey on spreadsheet systems.
With our server-based applications solutions, your data is protected by user-based access controls that allow users to see only the information that they're supposed to see and modify data which they have been granted sufficient access rights to.
Our solutions also produce clear audit trails for painless tracking, viewing and searching of user-entered changes. This will enable you to pinpoint who changed what, as well as where and when the changes were made.
Ready for regulatory compliance and beyond
When better controls are enforced, financial reports become more reliable. That should give your company the edge it needs to easily comply with SOX as well as other regulations and, as a consequence, build stakeholder confidence.
And because our solutions can churn out accurate reports for regulation compliance at shorter turnaround times than spreadsheet systems, you end up saving more man-hours. That should give your team more time to innovate, analyse information and deliver goods or services to your customers faster.
Designed for agility
Let's face it. Spreadsheets, which used to serve as nifty ad-hoc business tools, are no longer suitable for agile organisations. When faced with the demands of rapidly changing markets and dynamic environments, spreadsheets can instead slow a business down.
Multi-dimensional reports, dashboards, report filters, drill-downs, collaboration and automated reporting, budgeting and forecasting capabilities are needed for gaining insights and making fast critical decisions.
Sad to say, your trusty spreadsheet application is not designed to provide these features. Hence, it's time to move on to the type of solutions that are.
Our solutions can transform your IT and financial systems and make them better-equipped to meet the demands of today?s rapidly changing economic environment. With features designed for agile businesses, our solutions can help you tackle change with ease.
Automatic consolidation eliminates errors and wasted time caused by tedious copy-pasting of data and linking of cells.
Better collaboration capabilities allows team members to bring their heads together for planning, budgeting and reporting even while on the go.
Mobility support enables users to input data or retrieve information through their wireless mobile devices.
Superior sharing features ensures that everyone is exactly on the same page and viewing real-time information.
Dashboards provide insightful information at-a-glance through KPIs, graphs and various metrics.
Drill-downs enable users to investigate unusual figures and gain a better understanding of the details that contribute to the big picture.
Easy to learn interfaces allow your organisation to cope with fast personnel turnaround or Mergers & Acquisitions.
More Spreadsheet Blogs
?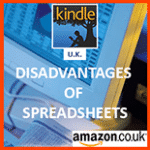 amazon.co.uk
?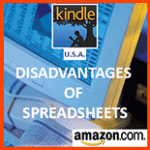 amazon.com