Overview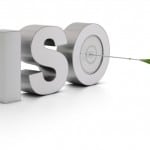 ISO, or the International Organization for Standardization, is a global standard-setting body, made up of a network of various standards organizations from among its 162 member-nations. ISO is a vital force in the manufacturing industry, promoting industrial and commercial global standards for specifications and requirements in materials, products, procedures, information, and quality management.
ISO Certification
For a company, an ISO Certification:
• Is an assurance that the organization, has met the required management of processes and documentation.
• Provides standards on how businesses and organizations manage information and processes;
• Does not impose any regulations;
• Is not like a license that allows a business or company to operate.
Rather, an ISO Certification merely certifies that a management system, a manufacturing process, or an offered service has all the elements for quality assurance and the capability to compete in the international market.
That said however, an ISO Certification is still vital to most businesses because it brings them up to par with global standards. For instance, in many industries, contracting companies are required ISO 9001 certification, and some government contracts, such as in the oil industry or medical technologies, depend largely on ISO 9001 compliance. Most ISO Standards are specific to different industries, processes, and products, but ISO 9001 is a management system standard that can be applied to any company.
ISO 9001
ISO 9001 is unarguably, one of the most established Quality Management Systems program in the world today that can be a useful tool for any organization. ISO 9001 Standards is currently the recognized standard not only for quality management systems, but management systems in general, ensuring quality in all aspects – products, services, and documentation.
Any company, regardless of size or sector, aiming to improve its operations and management, would do well with an ISO 9001 Certification, especially if the organization is prepared to implement the standards throughout the entire organization and not just in particular departments or divisions.
Find out more about our Quality Assurance services in the following pages:
Failure Mode and Effects Analysis